Yes, it's March 8, 2021, in the middle of COVID 🦠 and I'm well aware that the word festival sounds like a distant memory … but don't panic, they'll be back very soon 🌪!
And since you have some time, why not read this great article or we prepare you THE ultimate KIT to make the most of his festival with PoppersPlanet? 🎉.
I. How to enjoy your festival on Poppers
.Known for its euphoric, energizing virtues, poppers are the perfect ally to get your festival days/evenings going!  A little puff here, a little puff there and you're pumped to make the most of the music 😉
You can share it with your buddies 🖐 and create a real atmosphere of sharing and open comradery! Well yeah, poppers are social glue at festivals…you'll see 👬!!
A little piece of advice from the festival guy in me, don't make the rookie mistake of only bringing one vial! While this little vial is easy to store and virtually unbreakable, you're not safe from misplacing it in battle or worse, finishing it faster than you expected because the euphoria is so intense 🤪.
Take the time to make your little selection, choose poppers known for their hilarious and energizing effects 😉 In particular, we recommend Amyl (25 ml bottle, ideal for sharing) or Super Rush (small but strong). And don't lose it, remember to pack a vial or two of your hottest poppers, we're not immune to a romp between Sets [remember to protect yourself if it's a handsome stranger ⚠️] …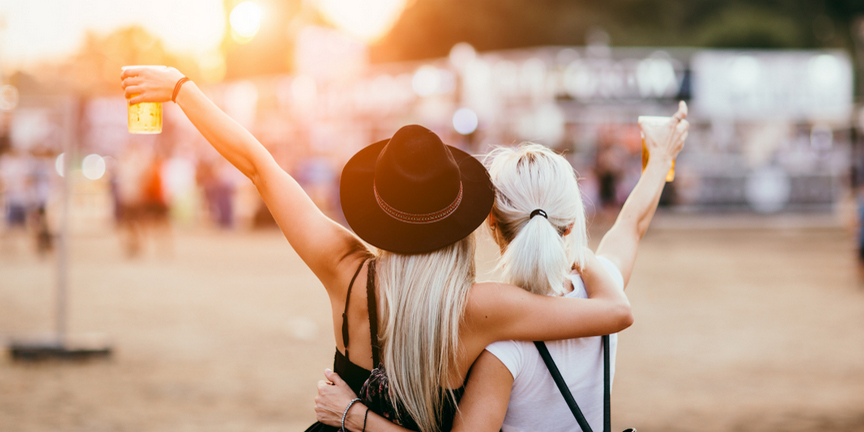 II. Don't forget your little Bob or your Hat
Sunshine or rain, it breaks the momentum … so take your headgear, it will also prevent your vial of Poppers from being heated by the sun or soaked when you decide to fill up on Energy 😉
III. Her little tube of hydrating cream
Between the euphoria, the dancing, …. the vial of poppers is likely to get shaken around quite a bit in the hustle and bustle, so no one is safe from a little skin irritation from a splash! ( we told you to take several vials, people fight otherwise 😡)!
So remember to take your little tube of hydrating cream or Aloe Vera with you, to quickly get rid of the irritations that won't last long …. Your skin will be more beautiful than ever, and you will be so beautiful that you may get free consos (in truth I don't think so, but nothing ventured, nothing gained buddies! )
IV. Intimate gel and condoms
As you know, it's when you least expect it that you get mowed down by fate …. So even if you go to your favorite festival with the idea of having a blast on the music and nothing but the music, who knows if you won't fall under the spell of a musician or a singer; And if you went empty-handed … oops, you might lose yourself the hit of the century: that would be a shame;
So remember to bring your bottle of intimate gel and some consomds…. A wise festivaleer is worth two 🙂
Aucun résultat
La page demandée est introuvable. Essayez d'affiner votre recherche ou utilisez le panneau de navigation ci-dessus pour localiser l'article.
V. Bottle of hydro-alcoholic solution
Finally, one last ESSENTIAL tip, if you're lucky enough to attend a concert this year … think about barrier gestures; Masks and hydro-alcoholic solutions are obviously a must, and these little gestures can save your life , so it would be silly to go without;
Know that PoppersPlanet offers hydroalcoholic solution bottles, super practical (in sprays), easy to carry (small formats of 50 ml or 100 ml), and moreover they smell super good (aroma of essential oils); But it doesn't matter the product, the main thing is not to forget it when you pack your bag…
In case of an accident, or if someone is not feeling well after taking Poppers, we remind you of the useful info:
http://www.drogues-info-service.fr
Emergency number: 0800 23 13 13 (8am to 9pm, free call from a landline).
As a reminder:
Do not multiply inhalations in a short period of time (risk of overdose)
If you get a headache and/or dizziness, stop inhalation and go breathe fresh air
Never use poppers near a flame. The product is highly flammable
Avoid contact of the liquid with mucous membranes, especially the nose, mouth and eyes. This may cause burns and/or dry skin