Here's a little article listing two methods of popper consumption that we've talked about very briefly so far, but which are worth looking into a bit more, for total information of course 👨‍🏫.
I. The mode of use of poppers that is very fashionable at the moment but that we absolutely do not recommend due to its dangerousness: the Poppers Cigarette or Poppers Clope
🚬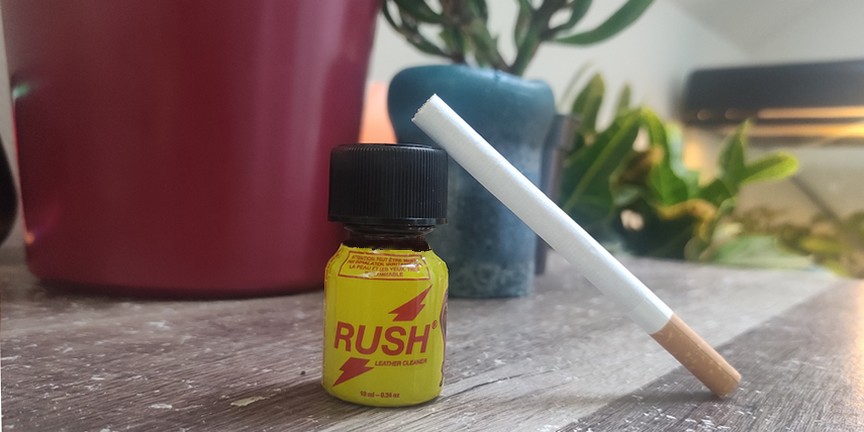 For this recipe, uh technique… you'll need:
🍴 A bottle of Poppers
🥄 A cigarette
So far nothing complicated…. you are still here!
How to proceed now? :
Just dip your cigarette in your poppers and then inhale on your cigarette without lighting it (again nothing complicated, but wait for the next ❗️)
Notice to the unfortunate ones who would have the bad idea to try to light their cigarette and smoke it literally.
The chances of you ending up a human torch its very high and until proven otherwise poppers is there to ignite desire, not the face 🚒.
What does it feel like? :
The effects of this method to be proscribed are nevertheless very radical: crazy laughter, tenfold effects, shaking ground …
But are you really willing to put yourself in danger for that, when the classic uses of poppers already provide extraordinary stimulation? (and on top of that, you're wasting a cigarette, because you have to throw it away afterwards…💶)
I'll leave you to ponder this "smoking" question 🤔
II. After our focus on the method whose name should not be pronounced
🧙♂️

(The cigarette popper, yes I said it, here it is) here is a brief article on a technique reserved this time for the most seasoned users: The Poppers Coke

🥤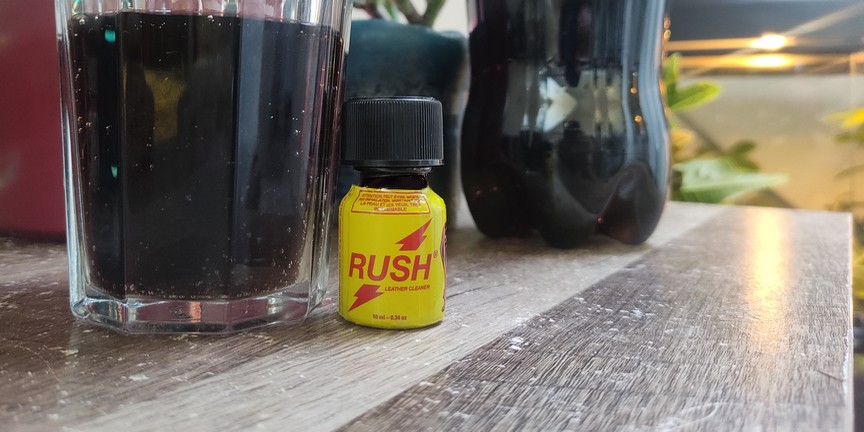 For this recipe, uh technique… you need:
🥤 Coke or any other soft drink, but preferably non-alcoholic
🥤 Poppers, the essential ingredient for every technique
Once you've done your little shopping,
How to proceed? :
In your glass, pour 1 shot of Poppers to 10 shots of Coke 🥤
Put a coaster on top of the glass and shake lightly (lightly we told you, don't be a bully).
Remove the lid and inhale those little PoppersCoca bubbles that delicately tickle your nostrils but are sure to beat your brain and get you high for a few minutes 🤯
Tiny tips:
👨⚕️ You don't practice this technique if you have asthma
😇 We don't practice this technique when we are new to Poppers
☠️ YOU DON'T DRINK COCA POPPERS, IT'S TOXIC (throw away the PoppersCoca mix immediately, and definitely don't leave it lying around on a table, as it's definitely unsafe to drink, and someone might want to quench their thirst in it, which would definitely ruin your night)
Take care of yourself,
See you soon
In case of an accident, or if someone is not feeling well after taking Poppers, we remind you of the useful info:
http://www.drogues-info-service.fr
Emergency number: 0800 23 13 13 (8am to 9pm, free call from a landline).
As a reminder:
Do not multiply inhalations in a short period of time (risk of overdose)
If you get a headache and/or dizziness, stop inhalation and go breathe fresh air
Never use poppers near a flame. The product is highly flammable
Avoid contact of the liquid with mucous membranes, especially the nose, mouth and eyes. This may cause burns and/or dry skin